NEW FLIGHT MODEL DELIVERED
22 April 2016
AGL delivers UPRT-capable Cessna Citation Mustang Flight model to NASTAR Center for advanced centrifuge training

AGL Simulation has delivered the world's first real-time CFD based flight model to ETC's National Aerospace Training and Research Center (NASTAR). The flight model simulates the Cessna Citation Mustang and is being used in a centrifuge simulator dedicated for NASTAR Center's Upset Prevention & Recovery Training (UPRT) course as a part of their civil aviation training programs. The final adjustments to the flight model were made on the ETC site in January well within the planned delivery schedule. Since then the simulator has been introduced into active training use by NASTAR Center.
The NASTAR Center's centrifuge simulator is capable of producing actual G-forces, even beyond the limits of the aircraft. This is essential for UPRT training, as pilots would encounter G-forces in real-life upset recovery maneuvers and they must be familiar with them. Centrifuge motion combined with the requirement of full envelope modelling place unusually extensive demands for flight modelling, which is why the unique CFD-based flight model by AGL Simulations was chosen for the task.
The envelope of the flight model has no limits, thus it includes the stall, post stall, and spin flight conditions demanded by the scope of the training. Curiously, having no envelope limits means that all imaginable maneuvers can be attempted, such as tail slides. Nothing is outside the scope of the capabilities, although only certain areas of the envelope have the best value in training programs.

The twin seated Cessna Citation Mustang cockpit. Photo courtesy of ETC.
Development of the flight model
In the development of the flight model, ETC benefited greatly of our capability to create a type specific flight model without test flight data. The aircraft geometry and airfoil data were defined using public sources producing the real-time CFD flight model with the type specific flight characteristics. Adjustments were made on site in real-time. The AGL system allows making adjustments while test pilots are flying, enabling immediate response to the test pilots' feedback. This allowed us to use the valuable time of the test pilots in the most efficient way possible and to finish the tuning process without compromises.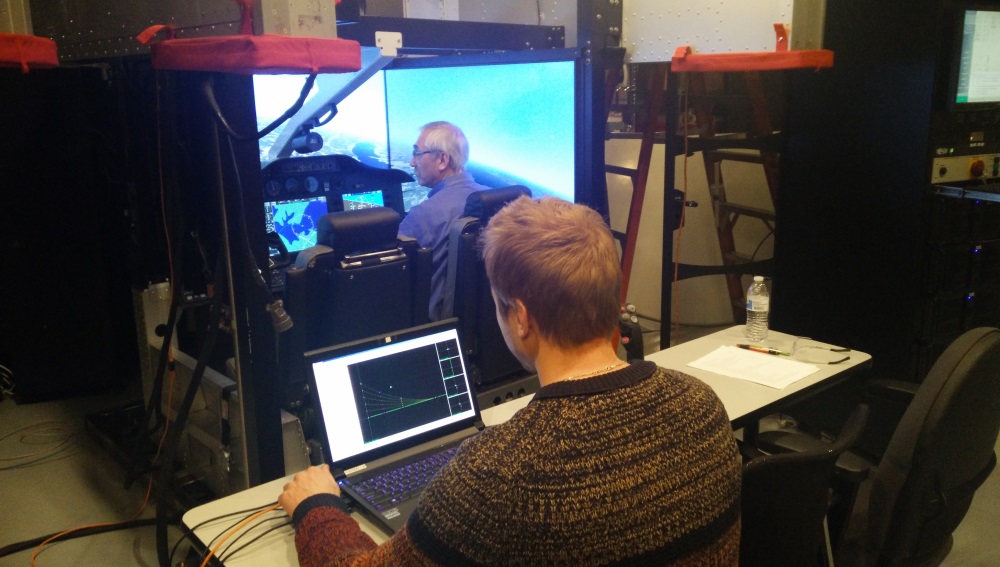 Adjustments requested by the test pilot were made during flying.
Features of the flight model
The features delivered by AGL include aerodynamics, aerodynamic control force feedback from the control surfaces, mechanical control force feedback from the nose gear, aerodynamic ground effect and landing gear ground reaction. ETC preferred to use their own in-house expertise for the engine thrust model, and AGL provided a custom interfacing to combine the different software components in a straightforward way.
Opportunity to fly the simulator
For an opportunity to fly this unique simulator, please contact Nastar Center.